Getting wet was not even the best thing about this festival.
As I would later find out, having gone through the mania that is the world's biggest water fight. In fact, getting splashed with water wasn't really all that bad. It was the ice cold water that was brutal. Yes, imagine ICE COLD WATER dripping down your neck and along your back. Certainly no expenses were spared in providing everyone with a memory that would last a lifetime.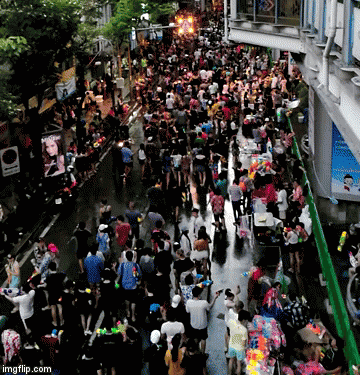 This exciting celebration is better known as Songkran, a highly anticipated annual event that marks the start of the New Year in the Thai calendar. The festivities are accompanied by ancient traditions including temple visits, alms offering, as well as water dousing which symbolises purification. Similar celebrations are also practised in neighbouring countries, where it is known as Choul Chnam Thmey in Cambodia, Pi Mai in Laos, and Thingyan in Myanmar. Whilst dates may vary each year, it is typically celebrated from April 13th to 15th, though in some provinces the festival may continue on for a few more days.
In Bangkok, the atmosphere was amplified by street peddlers selling water guns and waterproof pouches for mobile phones, restaurants with special Songkran menus, as well as the ubiquitous posters and banners around town. With a little Doraemon water gun that I purchased for THB 49 from 7 Eleven, I headed to Siam, a major shopping area and the heart of the capital city. A whole block behind Siam Square One had been closed off for motor vehicles, filling the streets with people. Not yet ready to get fully wet, I just stood on the side and watched people march and throw water at each other. The excitement was certainly building up in me, but at that point I was merely content to watch people genuinely happy about getting wet.
Aside from Siam, other districts that host the biggest Songkran celebrations in Bangkok are Khao San Road and Silom. I decided to go for the latter, where a whole two-kilometre stretch was closed for Songkran festivities. Here, people were really out and about to battle. My water gun was completely dwarfed in the sea of super soakers and backpack water jets everybody else was carrying, not to mention the ever-flowing water hoses and massive water tubs placed in front of every other shop for people to refill their guns, or to splash water by the bucketful. A news truck with cheery news anchors covering the festivities added a dash of fun in the revelry. There was no escaping the joy of Songkran, even by watching it from the side and occasionally squirting water at random people, as yours truly did.
The next day, I got on a three-hour bus ride to Kanchanaburi, a historic town known for the Death Railway train ride and the Bridge on the River Kwai which was made famous by a novel and a movie of the same name. As my tuk-tuk driver cheerily informed me, the celebrations here traditionally do not go into full blast until the last day of the festival, which means that I have at least one extra day to wander around town without getting wet.
I began to notice the myriad of colourful shirts donned by the Thai people, a sight that escaped me in Bangkok, perhaps because there were too many people around. Shop employees in matching shirts, families with little children visiting relatives – they all seemed to exude a certain look of merriment in wearing the colourful shirts that I couldn't help but to feel that I needed one too. Without wasting any time, I got myself a pink shirt with white jasmine flowers for THB 100 at the market near the River Kwai Bridge. By then, my Songkran starter pack was complete. Together with a smashing new Doraemon backpack water jet that I got for THB 250 from Daiso, a cute little waterproof pouch with a tiger face, and my old gun, I was pumped and ready to battle!
As I was told that Songkran in Kanchanaburi would only be in full swing on April 17th, I figured it would be safe to ride my rented scooter the day before. Silly mistake, as it didn't take long before I was splashed with water from all angles. I learned my lesson and changed to a full-face helmet, feeling smug as I rode past people ready with their water hose and huge buckets by the roadside. Never mind the fact that I was drenched from the neck down, my head remained dry and I had full view of everything.
I had to resist the urge to return the favour of a girl from a moving pickup truck who generously donated a bucket of water on me, as I had to keep still on my bike and ride very slowly. The number of motor accidents have been known to rise during this particular time of the year, and it's always good to keep caution or better yet, just try to be on foot unless absolutely necessary.
As it turns out, the celebration on the 16th was only a prelude to the madness that I would experience on the last day of the festivities here. Music was blasting from every corner, each tone indistinguishable from the next, blending in harmoniously with screams of laughter and shrieks of mild terror. I couldn't decide which one was more outrageously fun – the full-fledged foam parties with never-ending bubbles, or the pimped-up trucks equipped with waterproofed speaker boxes and subwoofers blasting cheesy yet catchy Thai party anthems.
By the time I met up with some friends in the middle of Maenamkwai Road, a key battle area for the celebrations in Kanchanaburi, no less than a dozen teenagers had doused me with talcum powder on top of all the water. Our little party then marched down to a local bar, where we made ourselves right at home by the huge water tub and started throwing buckets of water to whomever dared to be within the vicinity.
Being in the midst of it all made me forget about everything else that was not within my sphere of vision. In the warzone, nobody cared who you are or where you're from. Everybody is a friend and an enemy at the same time. Whilst the joy could be felt even by watching on the sidelines (like I did in Bangkok), it didn't hold a candle to actually jumping into the heart of the action. And because the main ingredient was water, mobile phones rarely left their protected pouches. Nobody bothered taking pictures and instead just revel the moment.
By the time I got back to my hotel room at 8pm, I was totally knackered from the battle and happy from the celebrations. After a full day being in a perpetual state of wet and cold, it was a 180-degree turn around to be immensely cosy in my freshly laundered pyjamas and a warm bed. As I reflected back on such a joyful occasion that was Songkran, I came to realise that getting wet was not the best thing about the festival. It was about losing yourself in the moment of celebration, and about sharing the joy of marking new beginnings with your loved ones.
EXPERIENCE BANGKOK: AirAsia offers the lowest fares to over 130 destinations. Book your seats, accommodation, holiday packages and activities now at airasia.com.